Asia Pacific Clean Energy Summit and Expo was held in Honolulu, Hawaii, September 9th through 11th of 2013.
 Chairman Fukutake and President Tajima were invited to the summit and made the speech about the trend of state-of-the-art technologies and a solution to recent difficulties to business managers from all over the world.
 At the expo, E-RUNNER Pikes Peak Special, which is equipped the technology SIM-Drive provided, was displayed and received broad attention from participants.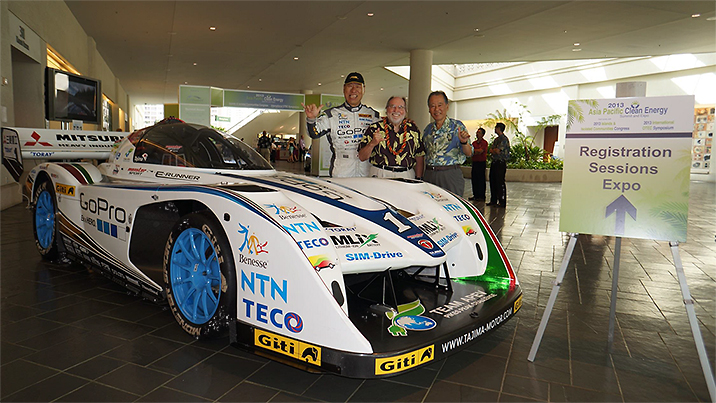 President Nobuhiro Tajima, Hawaii governor Neil Abercrombie and Chairman Soichiro Fukutake, from left.
 On September 12th, we gave a class of environmental education on Hawaii's energy environment and the difference between conventional petrol vehicles and electric vehicles to the 4th and 5th graders of the Manoa School.
Children were very delighted to see the appearance of President Tajima in racing suit and the presentation of the genuine electric racing car in the middle of the class.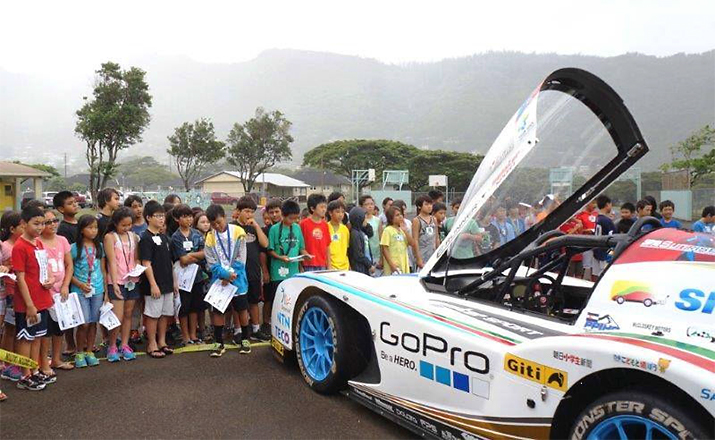 Children watching the genuine electric racing car in person.